Hurricane Irene Floods New Jersey (w pics)
In 2007, Oakland, New Jersey was rated by Business Week Magazine as one of the top 50 cities in which to raise kids, helped by an outstanding school system.
While Oakland is indeed a great town, parts of it are prone to flooding, especially in areas along the Ramapo River.  When we were looking for a home the first priority was to be close to our in-laws in order to provide a strong support system for our daughter who had special medical needs at the time.   So while we bought a home in a flood zone, it was on a raised foundation and historically never got flooded.  Just last year the Army Corps of Engineers just finished dredging the river and a new dam went operational so there was even less expectation of flooding.
When Hurricane Irene hit no one was quite sure what to expect.  They used the dam to lower the river in advance of Irene, but the day after the downpour it became too much.  We watched as the waters filled the lower areas immediately off of the river first, and within a few hours the river rose above the road and after just came rushing at a high rate.  About 3 hours later it was already well over 3ft. deep in the front yard, and with the rate the river was continuing to rush in and a projected river crest not until 2AM, we moved to get everything off of the floor and then evacuate.  We had to walk about 0.2 miles one-way to get to safe ground and I'll never forget carrying my girls and our Rhodesian Ridgeback through the waist-deep waters.  I made a few extra trips to help out neighbors and on the last trip the current was so strong, there was a point where I was moving only a tiny bit with each step.  It reminded me of how I felt when our soccer coach had made us do suicide sprints in waist-deep water, but worse because on the currents — my legs felt like rubber when it was done.
We spent the night in a hotel fully expecting that the flood waters would have been in our house, but to our surprise the waters quickly receded the next day and water had just missed getting in our house by inches.    We were relieved to hear this, but then reality slowly set in as we found our shed contents to be lost and some significant damage to our home's foundation.  One thing to understand about our neighborhood is that most of the homes here were never actually "homes" but rather summer cottages which later ended up being used as homes.  So like many of our neighbors, we relied on several sheds in our yard to make up for the unusually small living spaces and we lost quite a bit.  One of our neighbors had his shelves collapse inside the shed so he basically lost everything in it.
In the aftermath, the neighborhood looked like a war zone.  Piles of garbage appeared on front lawns 4-5 feet high and up to 20 feet wide.  There were large and heavy swingsets, basketball posts, and more that ended up scattered all across the neighborhood.  Other areas of Oakland were even harder hit.  Four homes were knocked off their foundations and we spoke with some of the victims who are devastated.  And just a few miles away in Pompton Lakes one house exploded when the gas was not shut off to the area.
It took as the better part of a week of non-stop cleanup to get to where we felt like we could take a breath.  We lost our garden crops and much of the contents of three sheds in our backyard.  But compared to others we encountered we fared relatively well.  Some had their homes destroyed and will need a lot of support to get through this difficult time.  Our U.S. Congressman and Mayor appeared outside our front door to survey the damage and President Obama came to Patterson, NJ (10 miles away) last week.  You can find more information at theoaklandjournal.com and oaklandcares.com.
I didn't get pictures of the garbage piles and more before it got picked up, but I did manage to get a few shots and found some others on the Internets.
Flooding began in the AM on the other side of the river….
I took this picture of our street about an hour before we evacuated.  It was good foot higher than this when I last saw it — inches from the mailboxes.
This heavy swingset was carried for a block by the flood waters until it became snagged in this telephone pole support cable:
Here's a video a neighbor took of a canoe trip around our neighborhood.  This was taken well before the waters had peaked.  The "tour" goes down our street at one point but never goes past our house:
Some of the flooding in town about two miles north of us:
Here's video of the Pompton Lakes Dam at Hamburg Turnpike with the flood filling up a KIA auto dealer lot and a CVS store:
Here's a picture of the home in Pompton Lakes which exploded when the gas in the area was not turned off: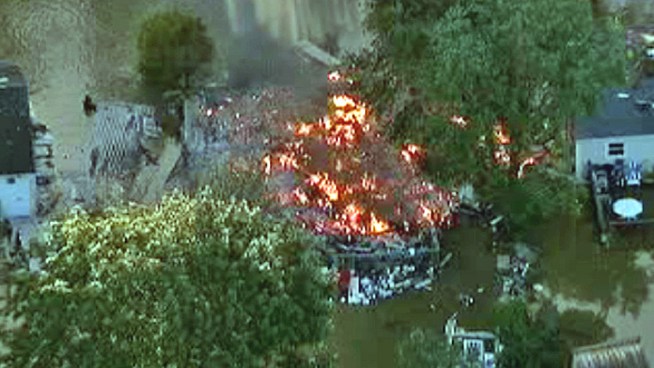 7 Responses to Hurricane Irene Floods New Jersey (w pics)